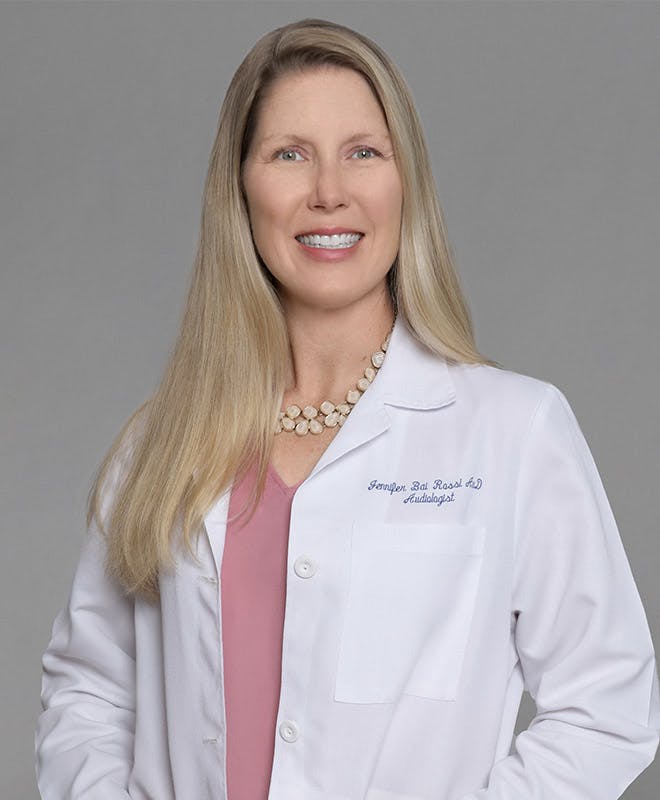 Jennifer J Bai Rossi, AU.D.
Clinical Audiologist
Dr. Jennifer J. Bai Rossi is our Clinical Audiologist at the South Florida ENT Associates office in Boca Raton. She delivers an exceptional level of personalized care, coupled with compassion and empowerment, and is dedicated to enhancing the overall quality of life of her patients.
Areas of Expertise
Dr. Bai Rossi's areas of expertise include diagnostic and rehabilitative audiology for adults and geriatric patients, counseling and aural rehabilitation, the selection and fitting of hearing aids and assistive listening devices, and balance assessments and rehabilitation.
Education
Fellow of the American Academy of Audiology (FAAA)
Doctorate of Audiology, University of Florida, Gainesville, FL, with Honors
Undergraduate studies, Communication Sciences and Disorders, University of Florida, Cum Laude
Experience
Dr. Bai Rossi has extensive experience in her field of practice. She completed her Doctorate in Audiology at the University of Florida in 2004 where she graduated with Honors. She completed her undergraduate studies in Communication Sciences and Disorders, graduating Cum Laude from the University of Florida in 2000. Dr. Bai Rossi performed her Doctoral Clinical Externship at the Silverstein Institute in Sarasota, Florida.
Upon completion of her graduate and clinical studies, she joined Boca Raton Otolaryngology where she was the director of the audiology department providing excellent audiologic and vestibular care for almost two decades, at which time the practice merged with South Florida ENT Associates.
Director of Audiology, ENT practice
Adult and pediatric audiological evaluations
Aural rehabilitation program development
Research assistant
Clinician, Newborn Infant Hearing Screening Program at Shands Hospital
Teaching Assistant, Audiology
Memberships
AAA (American Academy of Audiology) fellow
FLAA (Florida Audiology Association) member
Honors and awards
Nominated for the Audiology Foundation of America' s Outstanding Doctor of Audiology
Location Information