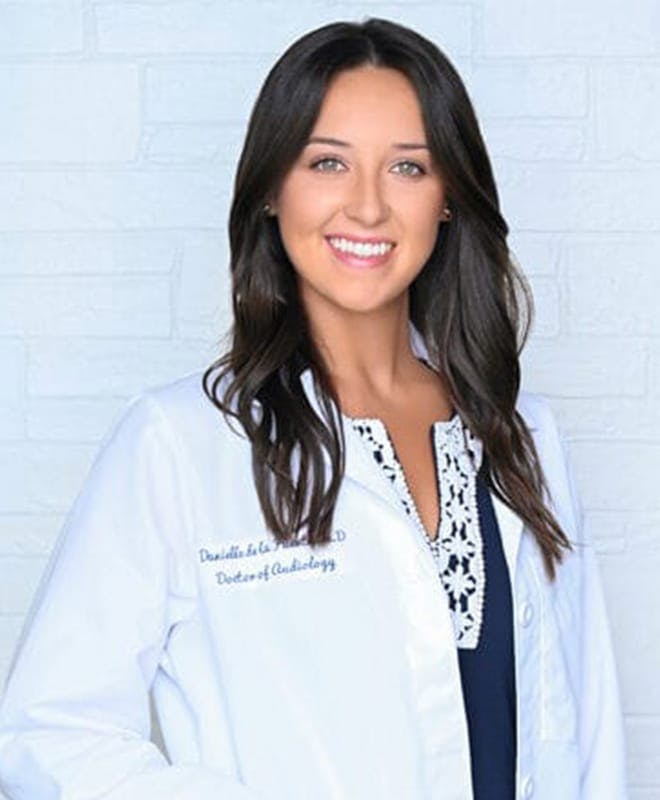 Danielle de la Fuente, Au.D.
Audiology
Dr. Danielle de la Fuente, Au.D. earned her Bachelor of Science degree in Communication Sciences and Disorders from the University of Central Florida in 2016. She then went on to obtain her Doctorate of Audiology degree from Louisiana Tech University in 2021. As part of her training, Dr. de la Fuente has practiced in a variety of different clinical settings including VA Hospitals, private practices, ENT practices, and schools. Dr. de la Fuente completed her 4th year externship with South Florida ENT Associates in the Mercy Hospital office. There, she obtained a well-rounded clinical experience in Audiology. She gained a surplus of experience in the areas of vestibular (balance), electrophysiological, tinnitus assessment and treatment, implant evaluations and mappings, hearing aid programming and dispensing, and diagnostic testing in pediatric, adult, and geriatric patient populations. Dr. de la Fuente is a licensed Audiologist in the state of Florida and holds her Certificate of Clinical Competency in Audiology (CCC-A).
In her spare time, Dr. de la Fuente enjoys spending time with family, friends, and her dog. She also has a passion for spending time outdoors, diving, and fishing. Dr. de la Fuente is eager to apply her knowledge and training in the areas of Audiology and Communication Sciences and Disorders to help patients maximize their communication abilities.
---
Location Information